Profile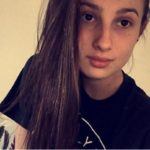 K-Jo O'Flynn
Curriculum Vitae
Education:

I attended secondary school in the Cotswolds.

Qualifications:

I have 9 GCSE C-A* qualifications and a certificate for going to Oxford University as an Oxford Young Ambassador for three years.

Work History:

Before my apprenticeship, I worked at Bibury Trout Farm teaching tourists how to fish for trout.

Current Job:

I am a Maintenance engineer for antennas and other space technologies.

Employer:

My employer is Oxford Space Systems which is a beginning company which has a team of  people from all across the world who work in areas, such as, RF engineering, aerospace, mechanical, electrical/electronic, and thermal engineering for the space environment. They create all sorts of  new technology for the wonders of space. 
About Me

I am a 19 year old doing an amazing apprenticeship in aerospace engineering and manufacturing of deployable antennas and structures that meet the challenges of the new space age.

Read more

Hi,

I'm K-Jo! I originally come from Ireland where I had no engineering background whatsoever ( just a lot of potatoes and farming ). I moved to England when I was 13 to live on a canal boat and start my first proper education. I originally thought I was going to do something with music and dance as I wasn't that good at engineering and science. However, my physics teacher in year 10 really helped me find my inspiration that I had deep in my heart from a very young age – it just needed help being brought out. When I lived in Ireland, I was always intrigued about space and engineering and my inspiration actually came from jigsaws weirdly! Before my dad passed away when I was 9, we use to do jigsaws all the time and the whole idea of how they came together was amazing in my head which I then put towards the idea of engines and how they come together, just like jigsaws! Anyhow, once I finished secondary school, I magically fell upon an apprenticeship in space engineering and a year later, I am making antennas and sending them off to space!

My Work

I work in a company called Oxford Space Systems where I am a maintenance engineer putting together antennas and other space technologies.

Read more

I am doing a four year apprenticeship ( in my third year now ) where I am training to become a precision engineer at college and at work I am a maintenance engineer. Through my apprenticeship, all my education is paid for and I get full on practical experience through the company and the different areas in the company ( Oxford Space Systems ). I get to make and test on a variety of space technologies that come from the idea of origami!

My Typical Day: My day to day work life would be inspecting and checking new materials and parts and then working in the clean room putting all the equipment together. I get to then see them through different test stages and finally coming together to then have a life in space!

Read more

As I am an apprentice, I get to see a lot of different areas in my company, from electronics to designing to business to manufacturing of all the space technologies. My main area of work though is putting together the antennas and other space technologies and making sure they all go through their tests successfully. For example, we have to do vibration tests and environmental tests as we have to make sure they will survive in space! This whole world of space engineering is all still so new to me so my day to day life is an exciting life of learning and new experiences that I will hold forever!

What I'd do with the money

I would love if the money went towards helping children find engineering apprenticeships and courses for children in schools to have a proper understanding and experience of the magical, different areas in the world of engineering.

Read more

Before I came across my apprenticeship, I had no clue they actually existed and the plus bonus that I actually could get paid for my education and experience. My school persuaded me very well to just do A-levels and never brought up the idea of apprenticeships. I was very lucky that Oxford Space Systems fell upon my CV and contacted me. If it wasn't for them finding me, I would be doing something that I know I wouldn't like. Ever since I have taken this apprenticeship, I have loved every moment of it and it is helping bring all my dreams to life! So I want to put part of the money towards helping apprenticeships open their worlds to schools and helping students understand all their choices they have after school. All choices should be thrown into the world for children and help them understand what they can get from all choices, such as university, apprenticeships, A-levels. I also then want to put the rest of the money towards engineering courses for students in all stages of education so they can have a bigger idea of what the world of engineering is like and have a taster of it.

My Interview

How would you describe yourself in 3 words?

Practical, outgoing, energetic

What's the best thing you've done in your career?

I haven't had a long life in engineering yet but I have done so much so far! I would have to choose either working on machines ( such as lathes ) or designing my carbon fibre bass guitar for my engineering project at the moment and also winning the National Apprenticeship Competition.

What or who inspired you to follow your career?

My dad and jigsaws! The hours we would spend putting together and watching it all come together!

What was your favourite subject at school?

Phsyics and Dance.

What did you want to be after you left school?

Engineer, musician or dancer.

Were you ever in trouble at school?

As I joined in year 8, I had a lot of catching up of who was who so I hoped from one group to another quite a lot but I stayed out of trouble unless i really disagreed with a teacher XD.

If you weren't doing this job, what would you choose instead?

Either a musician or dancer.

Who is your favourite singer or band?

Panic! at the Disco

What's your favourite food?

Nachos

What is the most fun thing you've done?

Performed at a music festival called Cornbury Festival and horseriding

If you had 3 wishes for yourself what would they be? - be honest!

First wish would be to get better at playing guitar! My second wish would be to buy my mum a morris minor ( as it's her favourite car ) and build it together. My last wish would be to build a perfect small log cabin with my partner in Iceland.

Tell us a joke.

.............I think my actions are more my humour than my words XD.

My profile link:
https://space20.imanengineer.org.uk/profile/kjooflynn/
---
---
---